More Christian Movies -- 2018 Additions
The Thankful Dandelion
Rare 1946 animated short by Christian filmmkaer Carlos Baptista about a Dandelion who counts her blessings and teaches children about free will.
The Living Christ Production Featurette
Featurette that announces the completion of Cathedral Films' 12-part Living Christ series that was filmed between 1951 and 1957. All episodes may be viewed below.
The Lord's Ascension
Final film of Family Films' 26-episode "The Living Bible" series starring Nelson Leigh as Jesus. No spoiler alert is needed for the resolution.

Broadway Trust
Episode of the TV series "Crossroads" starring Lloyd Bridges as a man who must embezzle money to pay his wife's hospital bills.


King Ahab
First episode in the Moody Bible Adventure series of 26 shorts about Mr. Fixit, a masterful storyteller who uses Bible stories to counsel neighborhood kids who drop by his shop with burdens.


Miracle of the Blind Beggar
1945 Cathedral Films Bible story about the blind beggar who gains his sight when Jesus anoints his eyes with mud.



ICVM Tribute
Clips from films donated to Gospel Films Archive by International Christian Media Visual Association.


Teenage Crusade Trailer
Preview trailer for Family Films' TEENAGE CRUSADE, which goes into the nature and production of other half-hour films in their "Teenage" Series.


Teenage Code
Episode of Family Films' teenage series. Bill, hoping to become a member of the exclusive club, has fallen behind on his studies


ELIJAH, the Fearless Prophet
1958 Episode from Family Films' OLD TESTAMENT SCRIPTURES series of short mini-bios of patriarchs and prophets.
Our Bible: How It Came to Be
1954 American Bible Society film, 25 min. Fascinating history of how the Old and New Testaments evolved into the 66 books of the Bible.


Light From Heaven
1957 Family Films Book of Acts series tells the Bible story about the conversion of Saul of Tarsus to a follower of Jesus.


Featured Bible Videos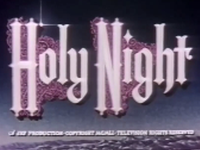 "The Living Christ Series" by Cathedral Films is a 12 part Bible movie that tells the complete Gospel story of the life and death of Jesus Christ. Filmed in color between 1951 and 1957, the series begins with the Old Testament prophesies of Isaiah and Christ's coming, and then faithfully dramatizes the birth, ministry, crucifixion and resurrection of Jesus Christ. Produced by the Rev. James K. Friedrich. Directed by John T. Coyle.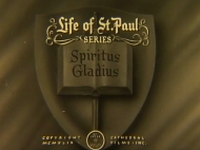 One of the crowning achievements of Cathedral Films was the critically acclaimed 12-part series "Life of St. Paul" produced between 1949 and 1951. Each exquisitely produced half-hour episode is grounded in the historical accounts of the apostle's life and missionary work. Produced by the Rev. James K. Friedrich. Directed by John T. Coyle.
Missionary Documentary Films
Empty Shoes
Excellent docu-drama about 18th century shoemaker and Baptist minister William Carey who journeyed to India in 1793 to spread the Gospel and fulfill "The Great Commission."
My Name is Han
A Chinese farmer, devastated by the war, returns home with his family to face poverty and grave problems. He is helped by his Christian wife, neighbors and the agricultural mission.
A Christian in Communist China
A defiant Chinese Christian pastor, who has been conducting secret religious services in Communist China, is discovered and tortured. He escapes and fears for his people.
Korea: Crossroads of World Destiny
Compelling documentary snapshot of the social, humanitarian and political conditions in 1953 war-torn Korea, all told from the perspective of Christians who served.
Decisive Journey
A young Christian man in India accepts Christ and comes into conflict with the pagan beliefs of his stern father.
Three Mothers and Four Fathers
True story of Li Po, a 9-year-old Chinese orphan boy who has had three sets of parents. When he is caught stealing, a missionary with a local orphanage intervenes.